Due to the 4th, I'm off my normal posting schedule. I will resume next week.
Today I'm linking to
Devoted
to share some thoughts on submission. In order to be the mother God wants me to be to my children, I have to be the wife God wants me to be. That is easier said then done.
So come on over to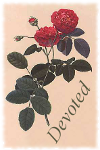 http://natasha-devoted.blogspot.com
and see if you can relate.